Mummified slave girl Karinas lesbian clingfilm bondage and domination in restrained punishments by her femdom mistress. The mummification bondage of submissive Karina leaves her entirely wrapped in plastic clingfilm. Unable to move. Incapable of speaking. At the complete mercy of her femdom. The vicious mistress decides to use the opportunity to obedience train her slave girl using whips, clamps and hot wax punishments.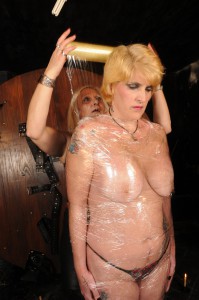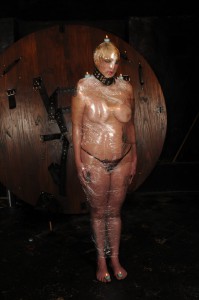 Photos by The Pain Files – Extreme BDSM Videos
A true Mummification bondage session by dedicated saran wrap fans and clingfilm lovers. Being mummified in bondage is a practice restraining the submissive in duct tape, bandages, clingfilm, saran wrap or other suitable materials by wrapping the slave girl head to toe, thus entirely restricting her movement and sensory depriving her. Other methods of bdsm related mummification include the use of bodybags, rope or straitjackets.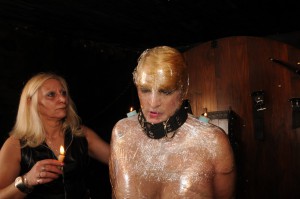 The intend of the mummification bondage is a completeky immobilized slave girl unable to move, speak or sense, which the inspiration drawn from the classic image of an Egyptian mummy